We paid less than half than non-DreamTrippers for an Ultra All-Inclusive (All-You-Can-Eat, all-you-can-drink) stay from November 12-16 (Thursday-Monday) at the 4-Diamond Marival Residences Resort and Spa . The smallest room there is 1400 sq feet.  When we arrived at the airport, an air-conditioned van brought us to the hotel. Marival is my favorite resort on planet.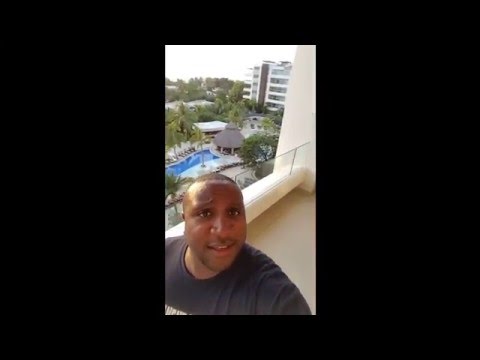 These DreamTrips are often hosted and our hostess, Hollie Hart, was amazing. She did a great job making sure that everyone was checked in well.  When we got there, we had cold towels to wipe our faces. Daquiris and piña coladas were immediately placed in our hands – Miami Vice style-like. Our hotel fridge was stocked with 6 beers – not enough for 3 guys, so we called the hotel staff and received 25 beers within ten minutes.
This was another Team Trip at the Marival for us. Overall, we did a lot of chilling, because the goal was really to get to know each other better and to have fun together. We discussed business a little bit.
Unfortunately, this vacation came just four days after my Australian adventure, so I was still jet-lagged and chilled on the beach for the first day, while Shequita went jet-skiing. (I know — poor me and my awful Old Spice Lifestyle.  😉 ) The beach there in Nuevo Vallarta was beautiful with white sand and 80 degree-weather.  Our team took a private boat to Yelapa, a little fishing village, which I think is only accessible this way.  Some people hiked to a waterfall there. On another day, we went ATV riding and at the halfway point we stopped and swam in a pool and jumped into a waterfall. We went to the Mandala Club Saturday and Sunday nights. On Sunday, Shequita Bennett, Yvonne Bennett, Traci Hamanaka, Tiffany Ho got on stage to pump up the crowd.  We were out until 5:00 in the morning both nights. I want to give a shout-out to David Cueva Lungo Motomoto for taking us out both nights and giving us awesome service. He's part of the entertainment staff at Marival, who all pretty much know me now, because I've been to the resort six times already.
If you'd like to be on a team where a 4-Diamond beach resort can start to feel like home because you get to vacation so much, contact me.