Have you ever been to a club where dancers perform live above your heads while music videos play on screens that stretch floor to ceiling? Welcome to the Old Spice Life in Coco Bongo, Cancun, the best night club ever… in the world! Check out this video of performance clips, inspired by Tron and Brazilian Carnival and featuring silk dancing: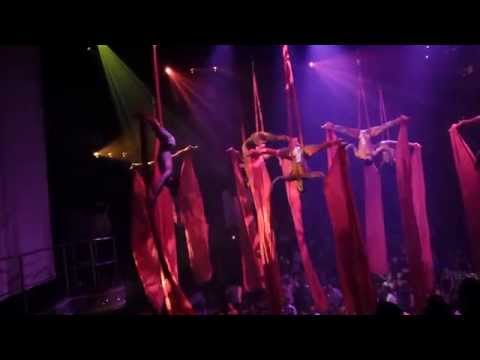 But I should back up to the beginning.  This was a DreamTrip to Cancun.  I arrived Thursday at the Cancun airport.   I had my first Corona at the airport and then walked onto the air-conditioned bus waiting for me.  I was whisked off to the Generations Riviera Maya.  I arrived late for our welcome party, yet at check-in they gave me champagne and my room keys. Bell boys appeared to carry my bags and escort me to the BUTLER tower, where I met my butler, Alma.  She informed me of all the services she could p
rovide me, such as waking me up in person and ironing my clothing. She noted my preferences and then I was off to see my Ocean-front, Jacuzzi, Swim-Up Suite. I was awestruck as I walked into the suite and looked out to my personal infinity pool.
That night was the evening welcome party. A Mexican news network was there. My friend, Ed Joseph, was interviewed and many of us were on live TV.  I gotta say, it felt a little like celebrity status.
Friday, I went to Xplor where I ziplined the highest zip line in Latin America.  We swam in underground cenotes, or underground pools, which were freshwater
 and absolutely beautiful.
Friday night, we went to Coco Bongo. I've been to a ton of Vegas clubs, but this place was by far the best.  Our package included the entrance fee, live performances, props, and music videos behind every show, private motor-coach transportation to and from the club, a private VIP section for our group only, and All-You-Can-Drink all night long — all for just $150!  There were 56 people in our group, all playing with the supplied props: balloons, confetti, and streamers.

Of course, Saturday was my recovery day, so I chilled by the pool in a cabana and hung out with everyone. It was a great time.
Sunday, I went golfing on one of the best – and most difficult- golf courses I've experienced. I'll admit I lost a lot of balls. 🙁
Monday, flying home to Tucson, I was upgraded to first class. Thank you United Airlines! I have Gold Status, because I fly so many awesome places throughout the year.
Obviously this was an amazing trip, but the best part was being there with my best bud, Greg Boyko. 🙂
Don't miss the next amazing adventure! Contact me to find out how you can club all night, swim in underground pools, have your own jacuzzi and pool suite with private butler, etc, or whatever your travel fantasy is….